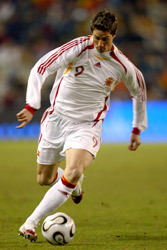 Liverpool have called a news conference for Wednesday afternoon where they are set to to unveil new club record signing Fernando Torres.
The striker has cost about £26.5m from Atletico Madrid and is understood to have agreed a six-year deal.
"The Liverpool offer arrived and I told the club to listen to that offer as that is the team I wanted to play for," said Torres.
"It's one of the best, if not the best, club in Europe."
Torres, 23, came up though the ranks at Atletico and has been their leading scorer in each of the last five campaigns, scoring 14 league goals in 36 starts last season as the side finished seventh in La Liga.
"It has been a difficult decision to leave my all-time club," he said.
"But it would have been hard for me to reject Liverpool's offer. It is a big leap for me and I think it was the right thing for everyone.
"The time comes in the life of a player that he needs more challenges.
"I have always done what was best for the club, too."
Torres will wear the number nine shirt for his new club.
"The fact that Liverpool are giving me the number nine jersey just goes to show the confidence they have placed in me, when considering those who have worn that shirt before me," said Torres.
"A new beautiful adventure begins for me and I hope that with work and effort I can be among the best players.
"This is a unique opportunity for me. Liverpool aspire to everything and that has been an important factor in my decision to go there.
"I want to adapt as quickly as possible. I think Premiership is a football that adapts well to my style.
"I will arrive with a lot of joy and ambition."