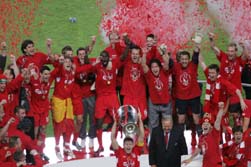 Liverpool have been told they can defend their Champions League trophy next season.
UEFA has awarded the holders place in the competition's first qualifying round.
It means Liverpool will have to play six matches in order to qualify for the group phase and this will obviously interfere with their pre-season schedule.
Liverpool, who failed to finish in a qualifying place in the Premiership, will become the fifth English side in the competition.
But they will get a smaller slice of television revenue than the other four Premiership teams involved.
Liverpool will also get no "country protection" which means if they progress through the qualifying stages they could face Everton or Manchester United – who enter at the third qualifying round, and if they make it though to the group stage they could end up in the same group as Chelsea and Arsenal.
However, in future, Uefa has decreed that if the Liverpool situation occurs again and the European champions fail to finish in a qualifying place in the league, they will come in at the expense of the fourth-placed side.
"The Uefa executive committee decided to amend the regulations for the future editions of the Champions League, so that the holders will have the right to defend their title and therefore qualify automatically," said a statement on the organisation's website.
The rules will also apply for countries who only get three or two Champions League spots.
But there will be a special exemption for countries with one Champion League spot winning the competition but failing to win their own domestic league.
Uefa changed its rules after a meeting of the executive commitee and Liverpool will enter the competition in the opening round of qualifying matches.
Their first leg will be on 12 or 13 July with the second on 19 or 20 July. The second round will be played on 26-27 July with the second leg on 2-3 Aug
Manchester United and Everton will enter at the third qualifying stage – with first legs on 9 or 10 August – while Chelsea and Arsenal are already guaranteed a spot in the competition proper.
Uefa chief executive Lars-Christer Olsson told BBC Radio Five Live the decision was unanimous.
"Unanimous means that everybody is supporting it. By definition, that is also the case here.
"There were no discussions actually on where they should enter the competition because everybody was of the opinion they should be given the opportunity but they have to start from the beginning.
"They could not be allowed to get into the 32 for example."