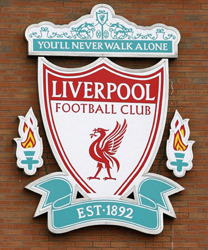 Premiership Tipping Podcast: Get the best weekend value from our team of experts!
Liverpool's sponsor wants the club to sign Asian players to help exploit commercial opportunities in the region.
Standard Chartered sponsorship chief Gavin Laws cited Manchester United's signing of Park Ji-sung as an example of reaching out to the lucrative Asian market.
"The real power Liverpool could do for us, and for the Premier League, is if there was a way they could nurture foreign players from Asia," said Laws.
He also stated that the bank wanted Kenny Dalglish to stay as Liverpool boss.
"I'd like to see Kenny as the long term manager – I'm sure the club would," commented Laws.
"They are going to be talking to him if they aren't talking to him already.
"The Kenny magic is all around the world, everybody believes Kenny can take the club [forward] and that means they stay focused and that means they stay in the newspapers around the world… we are looking for brand awareness."
Liverpool signed an £80m, four-year shirt sponsorship deal with Standard Chartered in September 2009. Although the company is based in London, much of its income comes from the Asian market.
Speaking at the SoccerEx conference in Manchester, Laws continued: "The markets in Asia and the Middle East are so nationalistic, they are very proud about their countries.
"One appearance from a player, say from Dubai in the Premier League, and you'd have the whole of Dubai watching it."
"You see what Park Ji-sung does for Manchester United."
Liverpool look unlikely to qualify for next season's Champions League and even a place in next season's Europa League may be beyond their reach. However, Laws believes it was "not that important" if Liverpool missed out on European competition because matches are played when the bank's target audience in Asia is asleep.
He also said that the club's struggles on and off the pitch this season had actually helped his company.
"I would have thought that Liverpool have had more exposure around the world this season than anybody else……without the turmoil at the club there wouldn't have been [the publicity]," he said.
"They are a mid-table team with an outside chance of getting into the Europa League again."

Premiership Tipping Podcast: Get the best weekend value from our team of experts!