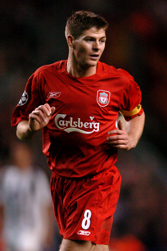 Liverpool are set to turn down Chelsea's £32m offer for captain Steven Gerrard.
Anfield chief executive Rick Parry has confirmed that Chelsea have made a bid for Liverpool's 25-year-old captain, who has broken off talks on a new contract.
"I can confirm we have had a bid from Chelsea and that it will be rejected by us," Parry told the BBC.
Chelsea's offer would have eclipsed the previous British transfer record which was set at £29.1m when Manchester United bought Rio Ferdinand from Leeds in 2002.
Liverpool responded to Gerrard's decision to break off talks by offering the player a deal worth £100,000-a-week to stay.
Gerrard, who called off talks with the club at the weekend, agreed to meet members of the Liverpool board on Monday night. He informed the representatives that he would sleep on their new offer.
Real Madrid are waiting in the wings and look set to embark upon a bidding war with Chelsea.
Bernabeu director of football Arrigo Sacchi said on Monday: "Of course we are interested in him, what big club isn't?.
"Until the player makes a move we are not going to be involved in a fight for his services."
Sacchi also denied speculation that Real and Chelsea had made a deal aimed at keeping the price down for Gerrard.
He said: "We have no agreement with Chelsea. How could we when our clubs are always interested in the same players?"
Liverpool open their defence of the Champions League crown with a qualifier against Welsh side TNS on 13 July. If he plays in that match he would be ineligible to turn out for any other side in the competition.
Despite the speculation, Parry reiterated Liverpool's desire to retain their skipper.
Parry said on Monday: "We still hope this situation is repairable. We are completely surprised by the comments (from Gerrard's agent).
"Rafa Benitez wants Steven to stay and couldn't have made it any clearer.
"We have made it clear since January we wanted to talk to Steven about a new contract.
"For anyone to make an issue of a delay of just a few days makes no sense. When we met on Wednesday, things were fine.
"We have wanted to keep Steven all along. There has never been any suggestion we wanted to sell him.
"Money is not an issue. There are no financial concerns regarding Steven's contract so any suggestion to the contrary is wrong."
And Benitez added: "We tried last season three times to talk to Steve about a new deal and he said we need to wait."