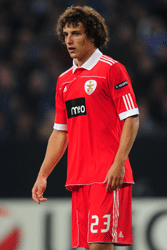 Dortmund are a best price 1/4 for the Bundesliga title as they defend their 11 point lead this weekend…
Benfica have issued a statement to the Portuguese stock exchange saying they have called off talks with Chelsea over David Luiz.
The two clubs have been holding talks for the past week, but Benfica have seemingly decided to end the talks.
Benfica issued the following statement: "The negotiations between Benfica and Chelsea F.C with regard to the potential transfer of David Luiz, were concluded today without the parties reaching an agreement.
"Benfica are happy to be able to keep in their ranks a player with the sporting quality and moral shown by David Luiz.
"Unlike some news that had come up these last few days, David Luiz never tried to force his exit, he is an exemplary professional, worthy of the shirt he wears."
Dortmund are a best price 1/4 for the Bundesliga title as they defend their 11 point lead this weekend…
Take advantage of the January sales by saving up to 36% on a subscription to World Soccer