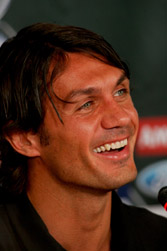 Paolo Maldini has expressed his bitterness following Milan's remarkable capitulation to Liverpool in Wednesday's UEFA Champions League final.
The Milan captain opened the scoring in the first minute of the game as Milan raced into a three-goal lead at the interval. However, three goals in an amazing six-minute spell after the break, brought Liverpool back on terms and set them up for their penalty shootout triumph.
"We feel in a really bad way for how things happened," he told Milan's official website.
"Anyway, I prefer losing these matches playing in a good way. We have failed for only ten minutes out of 120.
"We haven't played at our level just for a short time and we have been punished.
"This is a really heavy defeat to take.
"For sure, it's only a sports event, but it's clear I'll take with me the memory of this night for a long time.
"My goal? It has been useless.
"What counted was winning."