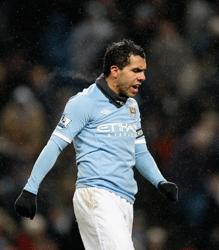 Dan Billinghurst gives his best bets for tonight's Juventus v Man City clash
Manchester City manager Roberto Mancini will hold talks with unsettled striker Carlos Tevez this week in the hope of persuading him to stay at the club.
The Argentina striker did not travel with the rest of the Manchester City squad to Turin for Thursday's Europa League dead rubber tie against Juventus and Mancini insisted he would deal with the Tevez issue on his return.
"I was in Italy, Carlos was in Tenerife for three days, I will meet him on Friday and before I want to speak with him," he said.
Tevez submitted a formal transfer request last weekend, claiming that his relationship with key people at the club had broken down "beyond repair," but Mancini is hopeful that he can keep the striker at Eastlands.
"Carlos is our player and I hope that he continues to play with us and I hope that he continues to score for us," Mancini said. "This is an important season for us. We can change the history of the club. We have this group and Carlos is an important player for us.
"I hope he stays here. Together we can work well this year. I think we can always change our mind. I don't think he is really unhappy. But maybe there is another reason."
Mancini said Tevez's transfer request had come as a surprise to him, at a time when the club are doing well in the Premier League.
"I am disappointed because we are in a good moment and in a good position in the table and our focus must be on this," the Italian said.
"I want to speak to him. Carlos has three-and-a-half years left on his contract."
Dan Billinghurst gives his best bets for tonight's Juventus v Man City clash
A subscription makes the Christmas perfect gift. Give a lasting gift this year and save up to 33% when you subscribe.