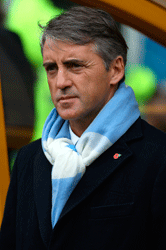 Manchester City manager Roberto Mancini has rubbished speculation that his players want him to step down.
It has been suggested that City's squad had lost faith with the 45-year-old's ability and wanted a new man in charge.
City went down to a surprise 2-1 defeat to struggling Wolves at the weekend, a match in which Emmanuel Adebayor and Vincent Kompany appeared to come close to blows on the pitch following a heated argument.
Mancini's decision to replace striker Adebayor with defensive midfielder, Pablo Zabaleta, when Jo was available was also believed to have caused bemusement within the camp.
However, Mancini seemed unconcerned when the suggestion that some of City's players were unhappy with him was put to him on Monday in the wake of their shock loss.
"It's rubbish," he told Sky Sports News when quizzed about a possible players' revolt at City.
Former Inter boss Mancini has been at the helm of the Eastlands club for less than a year after replacing Mark Hughes, who was sacked after failing to meet the club's sky high expectations.
Make sure you don't miss any of the last news and articles from World Soccer. Subscribe to World Soccer today and take advantage of our all 50th anniversary offer, saving up to 50%!