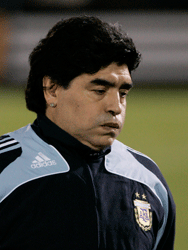 After beating Bolton, Man City move level on points with Liverpool, but still have a game in hand – BestPrice Top 4 betting here
Diego Maradona has criticised Jorge Valdano for not doing enough to help the Argentine national team.
Valdano, a former international team-mate of Maradona, is currently director general at Real Madrid.
The Spanish outfit currently have three Argentine players on their books – Gonzalo Higuain, Fernando Gago and Ezequiel Garay – but none of them are regulars for Madrid this season.
"Valdano is one the biggest rivals to Argentina at the moment because he first sent Gabriel Heinze away from Real Madrid and has now prevented Fernando Gago from leaving in search of regular football," said Maradona.
"He knows they are two players that I have in mind for the World Cup. Fortunately Gabriel is somewhere he can play (Marseille) but Fernando doesn't play and I can't call a player into my team that is not match sharp.
"He (Valdano) is doing the same with Gonzalo Higuain, even though he is scoring more goals than (Karim) Benzema and Raul.
"I think it's disgusting that an Argentinian is preventing other Argentinians from playing regularly.
"I know that many things are decided by the coach Manuel Pellegrini, but it seems to me that Valdano is not doing enough to help our guys."
After beating Bolton, Man City move level on points with Liverpool, but still have a game in hand – BestPrice Top 4 betting here