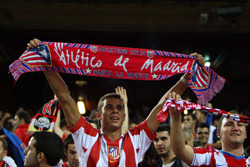 Marseille chairman Pape Diouf is furious that Atletico Madrid have had their stadium ban reduced.
Atletico were given a three-match ban after their fans racially abused Marseille players during their opening Champions League clash. Spanish police also clashed with the visiting French fans, and Uefa handed Atletico the European ban.
But on appeal, Atletico will play just one-match behind closed doors and Marseille supremo Diouf is unhappy that the ban has been reduced.
"If there is a sanction remaining, that is the proof there were breaches and mistakes from Atletico," said Diouf.
"I am against the fact that Uefa has not considered the whole situation.
"Because you can't forget the unbelievable violence our fans were victims of.
"Uefa won't get rid of violence and racism from stadiums with sanctions that look like fly bite."