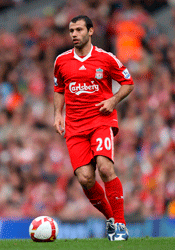 John Toshack takes his Wales side to Montenegro for their first Euro 2010 qualifier – Get all the best odds and tips here.
Former Liverpool midfielder Javier Mascherano has criticised the club, claiming the Reds told "lies" over the reasons for his departure from Anfield.
Mascherano completed his move to La Liga side Barcelona on Monday, and the player is unhappy because the club nearly reneged on deal made 12 months ago that would allow him move to Spain.
Mascherano claims he spent the 2009-10 season waiting on the chance to move to Camp Nou – but it was only 24 hours before the transfer market closed that he was finally able to complete the move.
The Argentina international also dismissed claims made by Liverpool that he wanted to move for family reasons.
"When they started to involve my family and to say things that didn't make sense, I obviously suffered," he said. "They'd promised me something for a whole year and they never fulfilled their promise. And that didn't have anything to do with my family or anything else. When you read or hear lies, you obviously get angry.
"I'd also like to thank the club [Barca] for their efforts. They've spent a lot of money and it was my duty to give way a bit to make this dream come true. When this chance came up I didn't hesitate. I've joined the best club in the world and the best team in the world."
Mascherano did have positive words about ex-boss Rafael Benitez, who is currently in charge at Inter.
"Rafa taught me tactics," Mascherano said. "He's one of the coaches who have taught me the most in my career and I'm very grateful to him. He was fundamental. He gave me the chance to join Liverpool. He had confidence in me at a time when, perhaps, nobody would have dreamed of giving me an opportunity. I'll be grateful to him all my life."
Meanwhile, Lionel Messi has welcomed he player to the La Liga champions: "He's a great player. In addition to what he can do in football, his arrival is a joy for me. Barcelona wanted him for what he means as a player and as a person, I am very glad that he signed.
"He's a great player, he really helps us, hopefully this season we can keep winning titles with Barcelona's shirt."
John Toshack takes his Wales side to Montenegro for their first Euro 2010 qualifier – Get all the best odds and tips here.
Make sure you don't miss any of the last news and articles from World Soccer. Subscribe to World Soccer today and take advantage of our all 50th anniversary offer, saving up to 50%!