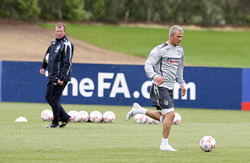 Steve McClaren has admitted that his position as England manager could stand or fall on his decision to recall David Beckham.
Beckham was brought back into the England squad for Friday's friendly with Brazil and the Euro 2008 qualifier in Estonia next Wednesday.
"It's my decision and I stand or fall by that," he said.
McClaren did not deny his assistant, Terry Venables, was opposed to bringing Beckham back.
"I listen to the advice," McClaren said. "Terry has been in this position and understands it. Every-one is around the table but ultimately I've got to make that decision."
Recalling Beckham for the fixture against Estonia gives an indication of the importance atttached to the fixture by McClaren.
"I've got to win next week in Estonia, everybody knows that," he said.
Anything less than a win would undermine not only England's Euro 2008 qualifying campaign but also McClaren's position.
The manager refused to confirm that Beckham's recall was a stop-gap measure.
"I've seen various things from 'sources close to' me saying it's a long-term thing," McClaren said, "but international football is very delicate. We're only thinking about the next two games."
McClaren admits he is pleased to have Beckham around and the former captain is happy with the terms of his return.
"I got the reaction from him I expected: to get his head down, not to moan about it, to be professional," the manager said.
McClaren feels that while Beckham, 32, might want to prove him wrong the real motivation has been "to prove something to himself".
He also cited the example of Real Madrid manager Fabio Capello who had said he would never select Beckham for Real again after he signed for LA Galaxy, but underwent a u-turn and has been rewarded with Beckham's best performances in a Real shirt.
"The last thing I would describe Capello as is desperate," said the England manager
"Anybody who has watched him closely over the past three or four weeks, and on Saturday (in a 3-1 victory over Deportivo la Coruna), must understand why David is in the squad."