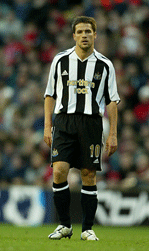 England should have few problems getting a result against Estonia this Saturday and moving one step closer to qualifying for Euro 2008 – 15:00 BBC1
England coach Steve McClaren has dismissed reports of a row with Newcastle manager Sam Allardyce over Michael Owen.
The 27-year-old striker returned for Newcastle last Sunday after undergoing surgery just nice days earlier and Allardyce is concerned that Owen is not ready to play in back-to-back Euro 2008 qualifiers.
But McClaren said: "People talk of a conflict between Newcastle, Michael and us – nothing is further from the truth.
"No risk will be taken but Michael is a very important player to us and if Michael is fit, Michael will play."
McClaren said he had been in constant contact with Allardyce and the medical staff to discuss Owen's fitness.
Owen scored three goals in wins over Israel and Russia in a double header of qualifiers last time out, and his presence is vital in an already-depleted England attack.
The surgeon who carried out Owen's surgery, Dr Ulrike Muschaweck, insists the risk of further injury is minuscule.
"The only thing stopping a quick return can be some pain which will keep the player off the field for some further days. The risk of the injury re-occurring is 0.1%," she said.
England are second in the group, just two points ahead of Russia.
"You want your best players available for big games like this and make no bones about it these are big games," said McClaren.
"We have put ourselves in pole position, it's up to us to make sure we do the business on Saturday, get the three points and then move on.

England should have few problems getting a result against Estonia this Saturday and moving one step closer to qualifying for Euro 2008 – 15:00 BBC1