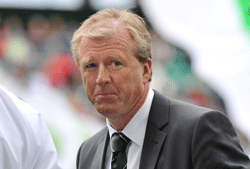 Germany v Italy: Joe Kiddle thinks the hosts are value on the handicap tonight…
Steve McClaren is eager to secure a new job after being sacked by Wolfsburg on Monday.
The former England manager was fired after winning just five league games this season, while it has been suggested that he had lost the respect of the dressing room.
A failure to replicate the Eredivisie title-winning success he enjoyed with FC Twente prior to moving to Germany in the summer of 2010 came as a disappointment to the 49-year-old, who has been linked with the vacant manager's job at West Brom.
McClaren issued a statement through the League Managers Association (LMA): "Naturally, I am hugely disappointed that my time as head coach of Wolfsburg has come to an end.
"However, I am extremely proud to have become the first Englishman to manage a Bundesliga club following the marvellous experience of coaching in Holland for two years, culminating in winning the Dutch title.
"Since I came to the club (Wolfsburg), I have worked really hard to implement changes to bring stability and success on the field.
"I believe we have been making good progress and have only lost two of the last 10 games in the Bundesliga. I have built up a strong relationship with the squad during my time here and I sincerely thank all the players for their hard work and great attitude.
"I would also like to thank the fantastic Wolfsburg fans who have been so supportive of me during my time in Germany.
"Unfortunately, although I have enjoyed a good personal relationship with the senior management of the club and general manager Dieter Hoeness, whom I fully respect, we have not been able to settle on a formula that I thought we needed to bring long-term success, and therefore sadly the time has come for me and the club to move on.
"I wish the club, its supporters, staff and players every success for the future and I now look forward to the challenge of securing another management opportunity in football."
LMA chief executive Richard Bevan said: "I am certain that Steve's highly impressive credentials as a coach and manager will be widely sought after throughout Europe."
Germany v Italy: Joe Kiddle thinks the hosts are value on the handicap tonight…
Take advantage of the sales by saving up to 36% on a subscription to World Soccer