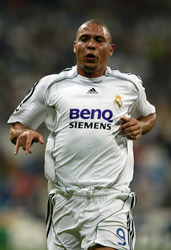 The draw for the FA Cup Fifth Round will take place today – Monday. Click here for the latest betting!
Ronaldo is close to joining Milan from Real Madrid, according to Rossoneri vice-president Adriano Galliani.
The Brazilian passed a medical ahead of a move to Milan, but the two clubs need to agree a fee before the deal can be completed.
Real are looking to recoup €7million for the striker, whilse Milan are refusing to improve upon their original €6million offer.
Galliani will travel to Madrid on Monday in an attempt to reach a compromise for the former Fifa World Player of the Year.
"I have a meeting at 5pm on Monday in Madrid with the Real Madrid president [Ramon Calderon]," said Galliani.
"Only one million separates us from reaching an agreement.
"Hopefully, we will reach an agreement and Ronaldo can train with his new team by Tuesday."
Milan remain confident Ronaldo will move to the city for the second time in his career after spending five years at city rivals Inter.
"I'm not optimistic or pessimistic. Ronaldo absolutely wants to come to Milan, we want him as well, but we can't accept all Real's requests."
Galliani admits that Ronaldo, who has struggled with his weight over the past 12 months with Real, was in better condition than anticipated.
"He is in good condition," said Galliani. "Better than what doctors had expected."
Ronaldo's move was defended by Milan coach Carlo Ancelotti, who believes the Brazilian still has a lot to offer.
"Ronaldo fat? I don't think so, he is just sturdy and has an imposing figure," said Ancelotti.
"He is very motivated and I think he has proved that by choosing to come here even if he might earn less.
"He's a great striker and is very fast.
"He hasn't trained much after being dropped at Real Madrid, but he remains an excellent player, who scored almost 100 goals with the Merengues in five years."
Milan president Silvio Berlusconi claims Ronaldo has rejected lucrative moves to the United Arab Emirates and the United States to make the switch to Milan.
"Ronaldo refused Emirates and USA money," said Berlusconi.
"He told me he still dreamt Milan and that he wants to come with us to show everybody he's still a champion."
The draw for the FA Cup Fifth Round will take place today – Monday. Click here for the latest betting!