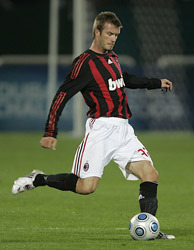 Milan admitted that they're keen to keep David Beckham at the club, giving the former England skipper a ringing endorsement by adding him to their UEFA Cup squad.
Beckham impressed again for Milan by setting up two of the three goals in a 3-0 victory over Lazio at the Olympic Stadium.
The win meant Milan remain unbeaten in the five matches since the 33-year-old joined on loan from Los Angeles Galaxy.
"We've put him on the UEFA list because we have a contract and he's doing very well," said Milan coach Carlo Ancelotti.
"I want to pick him for the two matches against Werder Bremen."
Vice-president Adriano Galliani has also been lavishing praise on Beckham.
"We're desperate to sign him and I will keep hoping until the last possible moment," said Galliani.
"When he first came to us I thought he would do well but I never thought to such a degree.
"It would be terrible to lose him so we'll make little overtures to try to keep hold of him and then our fans can have a great party when Beckham stays."
Midfield playmaker Andrea Pirlo has only positive things to say about the influence of Beckham.
"He's an intelligent guy, he plays football on instinct, has fitted in well and is helping us out," said Pirlo.
Beckham has refused to discuss his long-term future, preferring to concentrate on helping his new team cut Inter' six-point lead at the top.
"I love coming to Rome," said Beckham after his performance in the capital.
"We needed to win this match so I'm very happy with that. It's important to keep the pressure on Inter because they're the leaders and they're playing good football.
"It's important not to worry too much about other teams. If we win our games then we have a chance of catching the leaders," he added.
"It (the derby) is a big game and I'm looking forward to it but the most important game is next week's and when we've played that game we'll think about the derby."