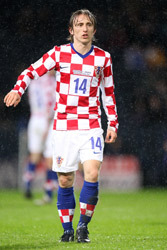 Croatia coach Slaven Bilic believes Luka Modric made the right choice in deciding to join Tottenham.
The 22-year-old midfielder will join Spurs next season after the London club agreed terms with Dinamo Zagreb.
"Tottenham is a perfect club for Luka. Spurs are a better club for Luka than, for example, Chelsea," said Bilic.
"Chelsea could have bought him, Lionel Messi and Ronaldinho and then Luka could have ended up on the bench.
"At Tottenham it will be different. (Juande) Ramos will have patience with him so he gets used to the Premier League style of play," said Bilic.
"I'm certain that Luka will become their main power, the star of the team."
Modric, who has scored three goals in 24 appearances for Croatia, said the presence of Ramos had influenced his decision to join Spurs.
"It is a big thing that Ramos wanted me in Tottenham so much," Modric said.
"Ramos's desire was my major motivation to play at White Hart Lane.
"I want to achieve big things with the club and be in the top group of teams in the Premier League."
Ramos revealed his own delight at securing a deal for Modric.
"We had to speed things up because if not we could have lost him," said Ramos. "The chairman acted very quickly.
"We've signed him because the player is able to adapt to the characteristics of the team.
"He can play in any position in midfield. He is a footballer with an enormous future and I just hope he gives the best of himself when he's here."