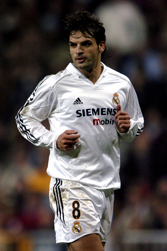 Fernando Morientes has admitted it will take him a while to adapt to life in England.
The Spain international joined Liverpool two weeks ago and has yet to score in his first two appearances for the Reds – both of which Liverpool have lost.
However, Morientes claims his form will improve once he is settled on Merseyside.
"I am finding it hard to adapt but I am better now," he told Marca.
"It's surprising when you see things you are not used to, such as training without any fans or without the press watching.
"I am starting to get to know things, my wife is looking for a house and a school for the kids and things are falling into place.
"I love the training ground and of course Anfield – it's true there is a certain magic before, during and after a game.
"They are new things that attract your attention."
Morientes is still struggling to learn English but the presence of a Spanish coach, not to mention several compatriots on the playing staff, have helped his transition.
"It is not something that worries me and I have the advantage that (Rafa) Benitez speaks English well, at least that's how it seems to me," he added.
"I can understand everything and that is a relief.
"This club is a lot calmer than Real Madrid, where everything gets magnified, and the people in the street are calm.
"They stop you, but they are very polite and that is good for a footballer."
"When you sign a coach like Benitez it is to let him work with a long-term view and that is what is happening.
"We are a historic club and fifth in the table but that is not a problem. The confidence that you get given here is incredible."