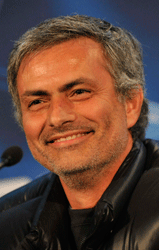 Gianfranco Zola has been SACKED as West Ham manager, but who will replace him? See the next West Ham manager betting here.
In the wake of a second successive title success at Inter, coach Jose Mourinho admitted he is unsure about where he will coach next season.
Real Madrid are linked with Mourinho and the Portuguese manager will not make a decision about his future until after Saturday's Champions League final against Bayern Munich in Madrid.
Mourinho said on Inter's TV channel: "At this point, I am not thinking of myself, my only thoughts are Inter and my players. After the final in Madrid, there will be time for me to be a little bit selfish for one, two or three days and I will think what makes me happier from a professional standpoint.
"But right now, I can say with 100% certainty that it's not true that I have one foot and a half at Real or that I am already the Real coach. In fact, I am very far away from being Real coach."
Mourinho, who is under contract with Inter until June 2012, admitted he has not felt happy working in Italy.
"Several times this season, I have thought that this was not my natural habitat," he said. "That this was not the country to work in and be happy."
Mourinho was speaking after his side held on for a 1-0 Serie A title triumph at Siena. The outcome allowed Inter to finish two points clear of Roma, who won 2-0 at Parma.
"It has been the most difficult scudetto," Mourinho said. "I was missing this, to win the league title in the last game in the last minute. In the past, I have won at home, in a hotel, watching TV, with four or five games to go until the end, but this experience is new and I do not want to repeat it.
"The best team has won the title," said Mourinho. "The tournament is made up of so many games and always the team that deserves it, wins. Although maybe it could have been easier."
Having won the Italian double – Coppa Italia and scudetto – Mourinho is now determined to bring the Champions League trophy back to Milan next weekend.
"A historic week for Inter begins," said Mourinho. "The season is over and to have won the scudetto and the Coppa Italia is always fantastic, even Bayern Munich has done that.
"But only one team can win the Champions League. Right now I don't have the energy to go and watch a Bayern DVD but from tomorrow onwards it will be back to work."
Gianfranco Zola has been SACKED as West Ham manager, but who will replace him? See the next West Ham manager betting here.
Make sure you don't miss any of the last news and articles from World Soccer. Subscribe to World Soccer today and take advantage of our all 50th anniversary offer, saving up to 50%!