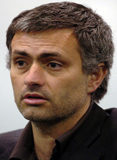 Jose Mourinho says that Chelsea will look to bring in three players when the transfer window opens, and confirmed that Asier Del Horno is one of the trio he hopes to buy.
Mourinho confirmed that three players will leave with three arriving, and, with a deal for Athletic Bilbao left back Del Horno understood to be close, the former Porto coach will turn his attentions to midfield and attacking reinforcements in the near future.
Chelsea have been strongly linked with a move for Internazionale's Brazilian striker Adriano and Lyon midfielder Michael Essien, while Milan's Kakha Kaladze has confirmed that he could be on his way to Stamford Bridge. Among those expected to leave are mmidielder Scott Parker and Finnish striker Mikael Forssell, both of whom have been linked with Everton.
"Three will leave, three will come in, we will look to sign a left back, a midfielder and an attacker," Mourinho told A Bola.
"Our left back already left in December for Newcastle, that is Babayaro.
"We are in conversations with Del Horno from Bilbao and later we have to sign a midfielder and an attacker."
Mourinho also confirmed that he was unhappy with the punishments received by himself and by Chelsea for their role in the "tapping up" of Arsenal full-back Ashley Cole.
Chelsea were fined £300,000 and given a suspended three-point penalty whilst Mourinho was fined £200,000 after being found guilty of illegal approaches.
"Since the beginning it seemed to be a serious process, we participated in it calmly, but we are not content," Mourinho added.
"Therefore the legal department of Chelsea will continue to analyse the situation."