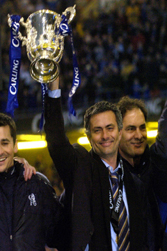 Jose Mourinho may be charged by Football Association after the Chelsea manager was sent off during Sunday's Carling Cup final with Liverpool.
The Chelsea manager was ordered from the touchline by a policeman for appearing to taunt Liverpool fans after Chelsea equalised – before going on to win 3-2.
Referee Steve Bennett has confirmed he will include the incident involving Mourinho in his official match report.
Mourinho denied he was taunting the Liverpool fans, but suggested that his gesture was aimed not at them but at the English media.
Afterwards, Mourinho expressed his regret over his gesture of putting his fingers to his lips in front of thousands of Liverpool fans.
"The police told the fourth official `Mr Mourinho must go' – and if I made a mistake I apologise," he said.
"I have a lot of respect for fans of every team in the country, in the world and try to show that."
"This is a special situation for me but if I made a mistake and did something that I cannot do in English football, then I have to adapt and understand where I am.
"I have a lot of respect for Liverpool fans. What I did, the sign of silence – `shut your mouth' – was not for them. It was for the English press."
After the match, Mourinho could barely contain his anger with the press following the criticism he and his team had received after losing to Newcastle United in the FA Cup and Barcelona in the Champions League.
"It is not about me, it is about us," Mourinho said afterwards. "And you cannot put pressure on my group – no chance.
"There is another thing you forgot. We have not lost our rearranged game against West Brom. If we beat them, the gap would be nine points again in the Premiership."