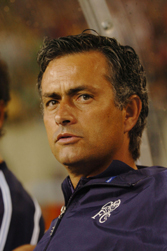 Chelsea's manager Jose Mourinho last night denied he had opened negotiations with Arsenal's Ashley Cole by claiming he is instead pursuing the Internazionale striker Adriano.
Mourinho was speaking after a claim in yesterday's News of the World that Chelsea had made an illegal approach for the player.
"Of course not," he said when asked if he had made contact with Cole. "I've never met the boy, I just play [against] him and no more than that. I have no time to meet players.
"But I can answer that every player who is a real good player or any agent who is trying to improve the situation of his players, the player is always connected with Chelsea."
"I couldn't have met Ashley Cole; I was in Milan with Adriano on Thursday," he said.
"I'd trained in the morning, [then] I flew to Milan and I met Adriano with a few persons from Internazionale. I just practised my Portuguese with him."
Last week the Inter president Giacinto Facchetti said last week that Chelsea had made a €70m bid for the Brazilian, but Chelsea refused to comment on the report.
But Inter spokesman Paolo Vigano said: "Not only is Adriano not for sale, it is impossible he saw Mourinho on Thursday.
"There are no negotiations for Adriano and it is impossible Mourinho has talked to our player without our knowledge."
Meanwhile, Mourinho said he would said he was happy with his squad, despite being linked with a string of possible transfer targets.
"Steven Gerrard, Adriano, Ashley Cole – and next week it will be another one.
"I have a perfect and wonderful squad and I don't need any more players this season. Next season I will need one or two.
"It is names after names with us, because it is Chelsea. Everybody wants to come and everybody wants to connect players with us.
"But I have no time to meet players. I am concentrating on my job with the club, and that is to get some silverware."