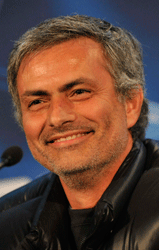 It's back to Champions League business this week as the remaining sides continue their quest for European glory. Get all the best betting here.
Manager Jose Mourinho hailed Inter's "almost perfect" display after a victorious return to Stamford Bridge.
"We were the best team by far," he said after a 1-0 win, 3-1 on aggregate, sent Chelsea out of the Champions League.
"We deserve this victory, this must be almost a perfect performance. Chelsea had reactions of frustration, of a team that felt the opposition was stronger.
"They tried to get back with conflict, long balls and diving in the box but I think everything we did was superior."
Mourinho received an enthusiastic welcome from the Chelsea supporters prior to kick-off in the second leg of the last 16 – his first return to the club where he won two Premier League titles in three seasons before leaving in 2007.
"I love Chelsea, I love this stadium, I love these people but I am a professional," said Mourinho.
"I celebrated a lot in the dressing room. I'm happy because I won. I am not happy my ex-players lost, because Roman [Blues owner Abramovich] lost or because the fans go home unhappy.
"It is a very important victory for me as a coach but it is not the victory of my life. It was hard to prepare myself to come here as an enemy.
"I exchanged some text messages with [Chelsea captain] John Terry before the game and I told him someone will go home happy and someone sad. My people will always be my people but I was the enemy – and the enemy won. That's life.
"Somebody asked if I would still be special if I didn't win. Now I can say I am not so special to the Chelsea supporters, who will probably never forgive me."
Mourinho abandoned his normally defensive tactics with an attacking line-up.
"The team accepted the risks that I took – and you don't always get that as a manager. I don't think it was tactics, it was attitude on the pitch," he added.
Meanwhile, Chelsea boss Carlo Ancelotti had no complaints about the outcome.
"We didn't play how we wanted to. Inter put some pressure on our midfield and we had a lot of difficulty," conceded Ancelotti.
"We played better in the first game and now were not able to repeat the same play so Inter deserved to win."
Chelsea had Didier Drogba sent off in the closing stages, and at the end of the game several players remonstrated with the referee.
"I think the players were disappointed at the end of the game because we lost," admitted Ancelotti. "Nothing special happened.
"I'm disappointed because we lost and are out of a very important competition. I want to say best wishes for Inter because I have nothing against Mourinho or against Inter.
"Now we have two important competitions we want to win. We'll have more pressure on the next few games but we must be strong and have good control of our emotions.
"Maybe this defeat could be a very good motivation for the next few games. We have to be strong after this defeat. We have to have a new motivation, a good motivation, for the future."
It's back to Champions League business this week as the remaining sides continue their quest for European glory. Get all the best betting here.
Make sure you don't miss any of the last news and articles from World Soccer. Subscribe to World Soccer today and take advantage of our all 50th anniversary offer, saving up to 50%!