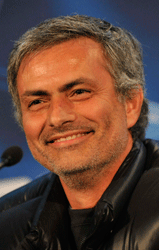 Real Madrid v Barcelona: See the best odds on EVERY market of Wednesday's Champions League semi-final 1st leg here…
Jose Mourinho says he has no "magic potion" to guarantee victory for his Real Madrid side against Barcelona in Wednesday's Champions League semi-final first leg.
The Portuguese led Inter to victory in last year's competition before moving to Spain, disposing of Pep Guardiola's Barca side on the way with a 3-2 aggregate win in the semi-finals.
"They (Barca) are a top team with a top coach and everything is possible," he told a news conference at Real's training ground ahead of Tuesday's game.
"I am exactly the same coach who lost 5-0 to Barcelona and I don't have any magic potion."
However, the balance of power has shifted since then, with Real earning a 1-1 La Liga draw at the Bernabeu this month and then beating them 1-0 in last week's King's Cup final in Valencia.
"We played a great game in Valencia (in the Cup final) but tomorrow is another match. We have to play at our top level and not be influenced by what has already happened," added Mourinho.
Mourinho, who worked under Bobby Robson and Louis van Gaal at Barcelona between 1996 and 2000, said it was difficult to predict which side would prevail.
"These are two teams that know each other well, with tradition, with players who know success and what it means to play important games," he said.
"My opinion is that there are no favourites. In a semi-final with two legs there are no favourites."
Mourinho said he had quoted Albert Einstein to his players to demonstrate the importance of "will" in sports contests.
"One day he (Einstein) said that the only mechanical force more powerful than steam, electricity and atomic energy is will," he said.
"That Alberto bloke was not stupid. With will you can achieve things."
Meanwhile, Barcelona coach, Pep Guardiola, who must contend with a number of injuries, says his players are still optimistic about their chances of reaching next month's Wembley final.
"We are not going [to Madrid] in the best condition but in mental terms we will travel to the Bernabeu with a lot of enthusiasm," he said.
"We accept that Madrid are favourites, they have earned that in the last few weeks, and we'll try to turn that around."
Barcelona are looking frail at the back with left-backs Eric Abidal, Maxwell and Adriano all missing, although influential skipper Carles Puyol and centre-back Gabriel Milito have recovered from injuries in time to play.
Real Madrid v Barcelona: See the best odds on EVERY market of Wednesday's Champions League semi-final 1st leg here…