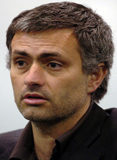 Chelsea manager Jose Mourinho has hit back at Ricardo Carvalho after the defender complained about being left out of the team for the opening games of the season.
Carvalho expressed his frustration after being omitted from Chelsea's team in both the Community Shield and the opening Premiership fixture at Wigan.
Mourinho picked French defender William Gallas – a decision which angered the Portuguese defender.
But, on hearing Carvalho's coimments, Mourinho was scathing in his response.
"Ricardo Carvalho seems to have problems understanding things, maybe he should have an IQ test," Mourinho told Record.
"I am not happy to have heard about this through the papers.
"Ricardo has worked with me for four years and I do not understand these quotes, he probably needs to see a doctor.
"I told the players this summer that they will need to have patience because we have a great squad and everyone needs an opportunity.
"Carvalho knows how I work, I think he is just temporarily angry but I will speak with him personally.
"We can't have this kind of thing at Chelsea."