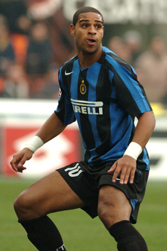 Chelsea boss Jose Mourinho has expressed his admiration for Brazilian striker Adriano.
Adriano has attracted favourable notices this season following a string of impressive performances for Inter.
Mourinho revealed that he has been monitoring the progress of the striker for several years.
"I watched Adriano several years ago at the Toulon Tournament and, as all eyes were on him, his name stayed in my mind," Mourinho told the Daily Star.
"It seems obvious that Adriano is the striker for the coming years, because of his technical ability, his almost super-human physical capacity and his aggressive and competitive mentality.
"Adriano will be the great striker of world football."
Real Madrid have been linked with Adriano and the 22-year-old has admitted that he wants to play in Spain at some stage in his career, but even they would struggle to compete with Chelsea in a bidding war.