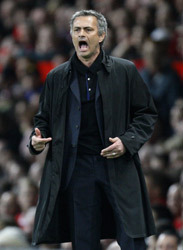 Man United are now a best price 9/1 for the Champions League after qualifying for the quarter-finals on Tuesday night…
Real Madrid coach Jose Mourinho says he wants to avoid former clubs Chelsea or Inter in the last eight of the Champions League.
Mourinho guided Madrid into the quarter-finals of the Champions League for the first time in seven years on Wednesday as they beat Lyon 3-0, to give them a 4-1 aggregate success.
"Any draw will be a serious challenge, but I do not want to play Inter or Chelsea, but we might have to," he said.
Mourinho was pleased with Real's 3-0 win over Lyon and he stressed that the club should always be qualifying for the last eight.
"We are Real Madrid, it is normal for us to qualify for the quarters," he said. "One day we had to go through and it seems normal for us to advance. We were better than our rival and we played better.
"This was a victory against a very good team, I think we deserved it after a complete performance, we played to win and deserved to. We controlled the game. Now we have to wait for the draw but we know there are only great teams [left].
Lyon coach Claude Puel is tipping Real to go all the way, saying: "Real Madrid could get to the final of the Champions League.
"They have the individual quality and if they can stay solid at the back, they could go all the way to the final."
"We could not match them tonight. They put pressure on us from the outset and kept us down. We failed to raise the level of our game. Our start in the second half was good but it ended with us conceding two stupid goals.
"We helped them do what they do well – utilise space. We were not relaxed. We were unprecise with lots of moves. We were nervous. I felt my team were very tense and this influenced their game."
Man United are now a best price 9/1 for the Champions League after qualifying for the quarter-finals on Tuesday night…
Take advantage of the sales by saving up to 36% on a subscription to World Soccer