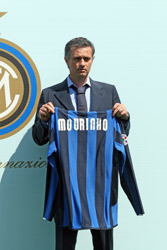 Euro 2008 Top Goalscorer. Click here for the latest odds!
Jose Mourinho says helping Serie A rebuild its tarnished image will be part of his mission as the new coach of Intenazionale.
Italian football has been plagued by hooliganism in recent seasons and authorities are cracking down after a fan and a policeman were killed in separate incidents last year.
"(It is necessary) to make the fans more responsible and change their relationship with the police," the former Chelsea and Porto boss told La Gazzetta dello Sport.
"Images that are not beautiful go abroad. You see violence, deaths, fans not allowed to go to away matches.
"My bench at Chelsea was three metres in front of the crowd, you could see fathers, children, women, families. I would be proud, one day, to have contributed to changing (Italian) football."
Breaking away from the defensive style often associated with Italian football is also important, Mourinho argued, if Serie A is to make up ground lost to Spanish and English football in recent seasons.
"Starting with a winning mentality in every game, demanding that if you don't win, at least you play well," he was quoted as saying. "You can't be criticised if you lose while entertaining."