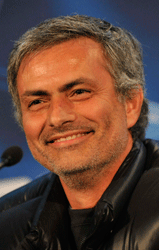 See the best odds on EVERY Champions League match in our dedicated betting centre…
Real Madrid will be looking to end their jinx against Lyon in European competition on Wednesday and reach the quarter-finals of the Champions League for the first time since 2004.
Madrid drew 1-1 in the away leg in France with the return on Wednesday at the Santiago Bernabeu Stadium.
Twelve months ago the French club knocked out the nine-time champions at the same stage. Juventus, Arsenal, Bayern Munich, Roma, Liverpool and Lyon have all sent Madrid out since it's last victory in the knockout stages against Bayern seven years ago.
"Yes, this run of bad results works against Real Madrid. But the game will be open and Madrid have a small advantage," Madrid coach Jose Mourinho said.
"But if we don't get through this year it's not a big problem. Serious problems are what is happening in Japan right now."
Cristiano Ronaldo has included in the Real squad as Madrid look for its first victory over Lyon in seven Champions League matches. The Portugal forward, who leads the team with 37 goals in all competitions, has missed two league games with a leg injury.
"It's the first time that Lyon plays their second match here without an advantage. At this point we're qualified and they have to play a big game," Mourinho said.
"We will play very defensively. We'll stack the back and hope (goalkeeper Iker) Casillas makes a lot of stops so if it ends 0-0 we're through."
Mourinho's future at Madrid could depend on the result as the Portuguese coach was hired to end Madrid's drought in the competition.
"Madrid is the champion of champions but obviously they need to win it again," he said.
"Mourinho is one of three coaches to have won Champions League twice with different clubs so if I don't win another I'll still go down in the competition's history. But I still want to win another. (But) everybody wants to play, nobody is afraid. There's no special pressure for it."
See the best odds on EVERY Champions League match in our dedicated betting centre…
Take advantage of the sales by saving up to 36% on a subscription to World Soccer