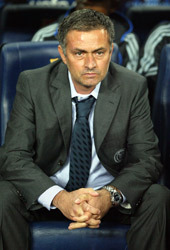 Help us with a Sport and Betting Survey! Click here to take part now.
Jose Mourinho has given the strongest indication yet that he will still be the manager Chelsea next season by revealing his plans for the first-team squad.
Despite Chelsea's challenge on several fronts being undermined this season by a combination of fatigue and injuries, Mourinho says he will not require a bigger squad for the next campaign.
"It is impossible to have a squad of 35 players," said Mourinho.
"What we have to do is pray a lot because the situation we have in terms of injuries is not possible to be repeated.
"We had, I think, seven surgeries and 14 players with traumatic injuries, not muscular or tendon strains, everything we had was a broken bone, a knee ligament, a skull fracture, everything was really bad stuff and we cannot have a bigger squad.
"Maybe next season I have big, big problems to choose a team because I have 24 players ready to play and everybody is fit. It is something we cannot control and I think the numbers we had this season were correct."
Chelsea's main problems came over the festive period when John Terry and Petr Cech were out injured and Mourinho was refused funds to recruit a new defender.
Mourinho is also conscious that he will lose several key players for up to a month during next January's African Cup of Nations. The likes of Didier Drogba, Salomon Kalou, Mikel John Obi, Michael Essien and Geremi are all expected to be involved.
"The competition is between January 20 and February 10, so it is around 20 days long," said Mourinho.
"By the rules the players have to go eight to 10 days before that, so it is around a month. That's one month when there are some Carling Cup and FA Cup games, so I don't think it is a period with seven Premiership matches. I think it will be three, maximum four league games. We have to look at it like a moment when the players are injured and we cannot use them."
Mourinho would also like to increase the number of young players to complement his senior squad. The 18-year-old forward Scott Sinclair came on as a subsitute in Sunday's 1-1 draw against Arsenal, and Mourinho hopes the reserve team can produce more players with potential.
"What we can have, to give a little protection, is a reserve team with kids with potential and who are ready, like for example Scott Sinclair," he said.
"It is not an easy game to come on and play for 15 minutes but I think Scott is improving and we need three or four kids of 18 to 19 who are ready to play for us if we need."
One player who appears to have a future at the club is Dutch winger Arjen Robben a player who had been linked with a move away from the club. However, Robben is understood to be keen to stay at Stamford Bridge.
Help us with a Sport and Betting Survey! Click here to take part now.