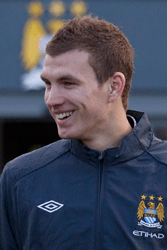 Can Southampton close the gap at the top of League One by winning at Oldham tonight? See the best betting here
Manchester City striker Edin Dzeko has wasted little time in making a dig at his new club's local rivals Manchester United.
Speaking on Tuesday at his official presentation as a City player, the Bosnia international said: "I hear a lot about the fans – that most of the people from Manchester are Manchester City fans.
"I don't know too much about the rivalry but I hear the derby is something special."
The comment is unlikely to go down well with the red side of Manchester, whose club has a reputation for attracting fans from across England and around the world.
City and United lie first and second in the Premier League at the midway point of the season.
Dzeko, who completed his move to Eastlands last week for a reported fee of £27 million, is impressed by big-spending City's ambition, saying "I think we can have a lot of success together.
"I'm very pleased. I'm here at a big club like Manchester City with big ambition.
"I saw something else in Man City. I'm an ambitious player and I think we can have a lot of success together.
"It's a project. I need to say it's a very good team with a very good coach.
Important player
Manchester City boss Roberto Mancini feels the forward will be a valuable addition to his squad.
"I am very happy the club bought Dzeko," said Mancini. "I think he'll be a very important player for the future of this club.
"We wanted him in the summer because we knew he was the perfect player for us. He is different from the other players we have. Now we have a good mix. I hope he can score a lot of goals like in Germany.
"He has quality, he has a good attitude, a good mentality…he's a strong player and he has experience but he is young. These are all things that are very important for the club.
"If one striker scores in Germany or Italy I think they score in England. The Barclays Premier League is difficult but I'm sure it will continue.
"For me he is one of the best strikers in Europe. With the other strikers we have we can have one of the best attacks in Europe."
Can Southampton close the gap at the top of League One by winning at Oldham tonight? See the best betting here
Take advantage of the January sales by saving up to 36% on a subscription to World Soccer