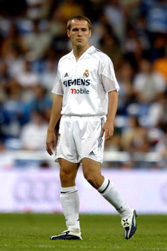 Newcastle have confirmed they have agreed a fee with Real Madrid for England's Michael Owen.
Owen is reported to be keen on a return to Liverpool, but with his former club showing little interest in signing him, a move to Newcastle may appeal.
But a Newcastle statement said: "Newcastle United have met Real Madrid's asking price and conditions.
"The agreed fee will be a record transfer fee for Newcastle United. It is now up to the player and his advisor."
Madrid have agreed to help Owen return to the Premiership to boost his World Cup hopes.
Owen said: "I said that my ideal situation was to start the season in the Real Madrid team and if not I would prefer to return to Liverpool.
"If the transfer cannot be finalised in time I have agreed to go to Newcastle."
He added: "I need to be playing regularly in World Cup year.
"I am most grateful to Senor Perez for his personal concern about my career. I have really enjoyed being part of his Real Madrid team."
Liverpool manager Rafael Benitez has always insisted that his main priority is to sign a centre-back and with Djibril Cisse, Fernando Morientes and Peter Crouch available up front, he has not shortage of atttacking options.
Owen spent much of his first season at the Bernabeu on the the bench, but he eventually forced his way into the first team. However, his position at Real has weakened following the arrival of Brazilian strikers Robinho and Julio Baptista this summer.