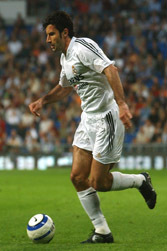 Newcastle manager Graeme Souness has confirmed that the Premiership outfit are considering signing Real Madrid's Luis Figo.
"There is an interest there as far as Luis Figo is concerned but we don't want to say any more at the moment," Souness told BBC Sport.
The 32-year-old former Portugal captain has asked his agent to find him a club in England after being told he can leave Real.
Figo said: "I have always said that the Premier League is a competition that I would like to play in some day and that has not changed.
"The Premier League has improved a lot in the last few years and many of the best players in the world have signed with clubs in England.
"It is very different from the Spanish league but I am sure that I will be able to adapt if some day I end up playing there."
Figo is being touted around the Premiership after making it clear he would like to finish his career in England. The major obstacle is likely to be Figo's reported £80,000-a-week wages, although there is a possibility that Real Madrid could pay some of the Portuguese international's salary.
Liverpool and Bolton have also been linked with Figo but Anfield boss Rafael Benitez did not seem interested, while Sam Allardyce admitted he would not be able to afford the deal.
Newcastle have already completed the signing of Scott Parker in a deal worth £6m and they expect to complete the signing of Inter's Turkisjh international Emre Belozoglu within the next few days.