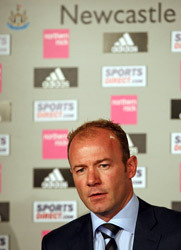 Alan Shearer has attributed Newcastle's relegation to a collective failure across the club – and he has pointed the finger at himself as well as owner Mike Ashley.
Shearer, who will not decide his future until meeting with Ashley later this week, is adamant "huge problems" at the club need to be sorted out if they are to make an immediate return to the Premier League.
A 1-0 defeat at Aston Villa courtesy of an own goal from Damien Duff ended Newcastle hopes of staying up, but Shearer, brought in for the final eight games of the season, believes Newcastle were "not good enough" over the course of the campaign and deserved to be relegated.
Shearer said: "I spoke to them in the dressing room and said 'you can make all the excuses you like.'
"But I wasn't good enough, Mike Ashley is not good enough, the same with Chris Hughton, Kevin Keegan, Joe Kinnear (who have all managed Newcastle this season), people in the dressing room, all of us.
"I was shocked at the state of the club when I came in. I was aware of mistakes that had been made. There are huge problems at the club. They are there for everyone to see.
"It's not just about today. It has gone on this season, last season, the season before, four seasons ago. It is a culmination of everything.
"Players need to go, players need to come in and those guys (in charge) need to decide where the football club is going to go. I'll give my opinion on that and then we'll see where we get.
"Those guys have got decisions to make – who is going to be in charge, how much they are going to spend? There are a million questions that need to be answered."
Shearer added: "What needs to change? A hell of a lot. There are a million things looking back a long way that haven't been right.
"I'm not blaming anyone. It has happened. What is important now is that the football club gets back on track and the sooner the better for everyone.
"In the end the three worst teams deserved to go down and, unfortunately for me, Newcastle are one of them. We can't complain.
"We have conceded too many goals, we haven't created enough, not scored many. That has been a problem all season and, when you get in a rut, it is very difficult to get out of it."
Managing director Derek Llambias told the club's official website: "Being relegated from the Premier League is a huge disappointment for everyone involved with Newcastle United.
"We are all hurting and I feel desperately sorry for everyone associated with Newcastle United; for Mike, who has invested heavily in the club, and for all the supporters who have given the team magnificent backing up and down the country all season long.
"Mike and I will sit down with Alan this week to discuss how the club moves forward again, and I hope to be able to say more to our supporters later this week."
One of the first issues to be resolved will be whether Shearer opts to remain in charge.
"Alan will reflect on it and I think, like Roy Keane, he can be anything he wants to be," Llambias added.
"It will be great if he stays at Newcastle. It would be great for Newcastle and great for the game and I have no doubt, in time, he could be a really top-class manager."