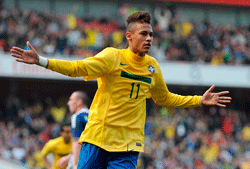 England are now a best price 10/1 to win Euro 2012 following their easy 2-0 win over Wales on Saturday…
Brazil striker Neymar has alleged a banana was thrown at him during the 2-0 friendly win over Scotland.
A Brazilian press officer confirmed a banana had been thrown on the pitch.
"This atmosphere of racism is totally sad," Neymar told a Brazilian TV station. "We leave our country to play here and something like this happens."
But the Scottish FA said: "There has been no such incident reported to the police or the stadium safety officer."
The spokesman added: "In fact, the tens of thousands of Scotland supporters who travelled to the Emirates were commended for their behaviour.
"The Scotland supporters are known the world over for their impeccable behaviour and we have no reason to believe that, after speaking to the relevant authorities, they have been anything other than exemplary.
"The Scotland fans helped create a wonderful spectacle inside the Emirates and throughout London and should be applauded for their support."
Neymar, who scored both of Brazil's goals, had been booed by Scotland fans after a lengthy spell of treatment for a first half injury.
"They were jeering me a lot, even when I was about to kick the penalty the entire stadium was jeering," added Neymar.
"It's sad. I would rather not even talk about it, to keep the subject from escalating."
He later added that he had not seen the banana being thrown but saw it on the ground next to him as he was near the touchline.
"I'm not going to worry about it too much," said the striker.
"It was a marvellous day and certainly one to remember."
Brazil midfielder Lucas Leiva is said to have removed the banana from the pitch and the Liverpool midfielder added: "There is no more space for racism in the world. They say it's the first world here in Europe, but it's where it happens the most.
"That has to change. Everybody is equal today, it's a matter of respect."
Brazil head coach Mano Menezes admitted he hadn't seen the incident.
"I didn't see that," Menezes said. "We didn't have the displeasure of watching it. If it happened, it is lamentable but we don't have confirmation of the event."
Scotland manager Craig Levein added: "I don't know anything about that."
Scottish FA president George Peat, who was also unaware of the incident, condemned any such action "without a doubt".
He said: "That's a sad state if that's true. That's an extremely unusual incident, that, if it happened."
England are now a best price 10/1 to win Euro 2012 following their easy 2-0 win over Wales on Saturday…
Take advantage of the sales by saving up to 36% on a subscription to World Soccer