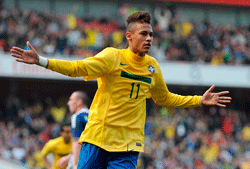 There's plenty of International and Football League action tonight – get the best odds on EVERY game in our dedicated betting centre…
Brazil youngster Neymar has said it would be a dream come true if he joins Chelsea in the near future.
Neymar, 19, scored both Brazil's goals in the friendly win over Scotland at the Emirates on Sunday and has emerged as one of the world's most coveted players on the back of some impressive performances for club side Santos.
"Chelsea's a great club. It's a dream of every player to play at Chelsea. If one day it happens, I will be very happy to come," Neymar told Sky Sports News.
"When the moment comes we are going to sit with my family. We are going to think about it and discuss the options.
"Last year, when Chelsea came, we sat together and we thought it wasn't the time yet. If it happens this year, we are going to sit again and going to discuss about it."
Despite attracting interest from a host of clubs, Neymar insists he is happy at Santos for the time being.
"I am happy there and, when the time comes, God will make me take the right decision and things will happen," he continued.
David Luiz, a fellow Brazilian, who has impressed since joining Chelsea from Benfica in January, said after Brazil's win over Scotland on Sunday: "I am very happy because I'm at one of the best teams in the world.
"I would love it if Neymar came to Chelsea. He is going to be one of the best players in the world."
There's plenty of International and Football League action tonight – get the best odds on EVERY game in our dedicated betting centre…