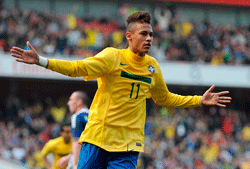 Gavin Beech is tipping West Ham to stun Man United at Upton Park in the early kick-off…
Brazil striker Neymar has refused to apologise to the Scottish Football Association for complaining of racist abuse during last week's match against Scotland.
SFA chief executive Stewart Regan wrote to the Brazilian federation (CBF) requesting an apology for the Scotland fans.
However, Neymar has claimed he did not single out Scottish fans after the match, which was played at the Emirates Stadium in London, and therefore he will not be retracting his remarks.
A banana was thrown on to the pitch and landed near Neymar, who scored both goals including a late penalty as his team won 2-0, and the Metropolitan Police, who praised the behaviour of the Scottish fans, have concluded it was hurled by a German student.
However, Neymar, who also felt he was subjected to racist jeering, posted a statement on his official website, explaining his decision.
He wrote: "I was surprised on Thursday by a letter from the Scottish FA, in which they demand an apology from me or from the Brazilian Football Confederation regarding the incident involving a banana thrown toward the field during the Brazil v Scotland friendly on Sunday, March 27.
"Stewart Regan says that the 'accusations' made after the match cast doubt on the reputation of 'good-humoured and respectful' Scottish fans."
Neymar adds: "At no time, even at the end of the game, still enveloped by the thrill of scoring the two goals that won the game, did I accuse any person or any group of supporters, of whatever nationality, of having committed such an act. All the interviews I gave at the end of the match, in Portuguese, are available for consultation with media companies that covered the friendly.
"Yes, I did lament the fact, condemn any and all prejudice, but I repeat, at no time did I accuse anybody. So I do not understand why I have to retract what I said. The requirement from the Scottish, after all that happened, seems somewhat ironic, since, if there has been prejudice, it is us, the players, who should 'require' a formal apology."
Gavin Beech is tipping West Ham to stun Man United at Upton Park in the early kick-off…