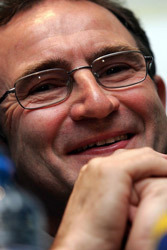 The axe has fallen on England boss Steve McClaren after his side failed to qualify for Euro 2008, but who will take over?
Aston Villa manager Martin O'Neill has confirmed that he will not apply for the vacant England coach's position.
The Northern Irishman, 55, who was interviewed for the job last year, was the bookmakers favourite to replace Steve McClaren who was sacked on Thursday.
McClaren was fired after England were beaten 3-2 by Croatia at Wembley on Wednesday – a defeat that ended their hopes of qualifying for next summer's Euro 2008 finals.
"I'm very uncomfortable and very uneasy about doing interviews on hypothetical cases," said O'Neill on Sky Sports News.
"I can understand how this has arisen. Obviously I was on the short list last time, I was interviewed for the job and I didn't get the job, but I suppose my name would occur again.
"No one has contacted me – that's obvious. I wouldn't expect anybody to so early or to even remotely think about it.
"I have a commitment here to this football club. Last time I didn't have a commitment, I was not in club management for other reasons anyway.
"But when the opportunity come up to be interviewed for England at that time it was great, I was absolutely flattered and I went to the interview and obviously didn't do well enough.
"Now, you have to ask yourself the question, why would you be asked back again?
"More importantly, I am absolutely committed to this. I set out 14, 16 months ago to this job and I know that no obstacles are in the way.
"This is what I wanted to do. This job is far, far from complete and I feel as if I am just starting and I feel as if I am getting things together.
"I want to do this job and that really should end it."
The Football Association's chief executive Brian Barwick has begun searching for a replacement, but several high profile candidates have already ruled themselves out of the running for the post.
Newcastle manager Sam Allardyce and West Ham's Alan Curbishley have ruled themselves out, Mark Hughes signed a new contract with Blackburn on Friday, and Italy's World Cup-winning coach Marcello Lippi has distanced himself from the role.
Ex-Real Madrid coach Fabio Capello admits he is interested and has emerged as one of the favourites to succeed McClaren, while Portsmouth manager Harry Redknapp has not ruled himself out.
England's next competitive match will be the opening encounter of the 2010 World Cup campaign in September, with the draw for the qualifying groups taking place on Sunday.
The axe has fallen on England boss Steve McClaren after his side failed to qualify for Euro 2008, but who will take over?