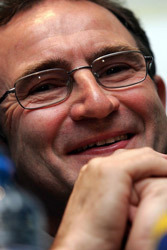 Man United are now a best price 10/11 for the Premiership after drawing 0-0 with Spurs at White Hart Lane yesterday
West Ham United are trying to keep alive their hopes of appointing Martin O'Neill as their new manager after it emerged the former Aston Villa boss is understood to have been unhappy with reports yesterday morning claiming he would be named as Avram Grant's successor later that day.
The West Ham board have been speaking with O'Neill's representatives since the start of last week and he was reported to be keen on signing a short-term contract until the end of the season.
A deal has, been thrown into doubt after it was reported on the morning of the game against Arsenal, while Grant was still in charge of the team, that O'Neill would be appointed immediately after the match.
O'Neill is believed to be angered with the way the story has been leaked and in particular the idea that he has accepted a position before the manager in post has been dismissed.
The former Aston Villa manager has been the club's first choice to revive West Ham's season, with Sam Allardyce, the former Blackburn Rovers, Newcastle United and Bolton Wanderers manager, the only other contender on West Ham's original short-list.
Meanwhile Grant continues hang on to his job, although the lack of public support from the board's hierarchy appears to make his role untenable.
"I prefer to talk about football rather than answer questions about other things around, especially when I am not the man you need to be asking," the Israeli said after the 3-0 defeat at home against Arsenal.
"I had two choices and chose to focus on football. I want to focus on the thing I can control and this is the team. Of course rumours on the day of a game do not help, it does not matter where they came from.
"I prefer to talk about football rather than answer questions about other things around, especially when I am not the man you need to be asking."
Man United are now a best price 10/11 for the Premiership after drawing 0-0 with Spurs at White Hart Lane yesterday
Take advantage of the January sales by saving up to 36% on a subscription to World Soccer