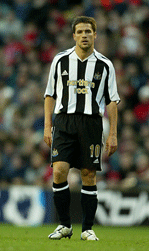 Michael Owen has played down reports that he won't be fit for this summer's World Cup as he allayed fears over a setback in his recovery from a broken foot.
Newcastle striker Owen, who has not played since 31 December, had to undergo further surgery on the foot on Friday.
"There is just one bit of the bone that needs another helping hand and Friday's operation, which went well, should do that," he told The Times.
The 26-year-old added: "I expect to be playing in four weeks."
Owen initially suffered the injury in a Premiership game against Tottenham and he had originally earmarked last week's FA Cup quarter final tie against Chelsea as his comeback match.
But after undergoing surgery, it looks like he will not return to first team action until Newcastle's game West Brom on 22 April at the earliest.
Owen said: "I have to admit I was a bit down when the surgeon rang last week to say he was advising me to go back into hospital.
"But it was my brother who pointed out that there are still 11 weeks until the World Cup starts.
"I should be back in four. That leaves plenty of time to get my full fitness and, as for scoring goals, I have been doing that all my life and I will have all the same instincts when I am 50.
"There is always a scare or two before a tournament but, if this is as bad as it gets for England, then we should be pretty well off."
England captain David Beckham suffered a similar injury before the last World Cup and was not fully fit in Japan.
But Owen added: "I have heard people compare it to David's injury and ask whether the manager should be taking players if they are not fully fit.
"I'm not expecting that to be an issue. I am expecting to go to Germany 100% fit."
Subscribe to World Soccer – The essential football magazine