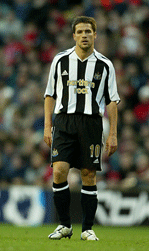 Are you a football fan? Answer a few footy questions and be in the running for a £50 Free Bet. Click here!
Michael Owen confirmed his fitness for England's forthcoming Euro 2008 qualifiers against Estonia and Russia by scoring on his comeback game for Newcastle.
Owen returned only nine days after groin surgery with a goal in Newcastle's 3-2 victory over Everton.
"I'm fine. I'm playing without pain and will only get better," Owen said.
"It's only a minor thing and I have still got all the stitches in. I've put in a lot of hard work and I was disappointed not to actually start."
When asked whether he represented a risk playing for England against Estonia on Saturday, Owen claimed he was confident he was fit to start.
"Not at all," he told Sky Sports News.
"No doubt the manager from here will say that and maybe the fans will say that but if I had to look after myself, I wouldn't have made myself available for today.
"The surgeon's advice is what I'll look at more than anything else and she said that I can push it as hard as I want – it's stronger now than it was before the operation."
England manager Steve McClaren did suffer one blow at St James Park with the news that Andy Johnson, who scored his first goal for Everton since March in the game, will miss the Euro 2008 qualifiers to undergo ankle surgery.
Everton manager David Moyes said: "We have nursed AJ along, but now he will have surgery on Monday and will be out for four weeks."
McClaren has already revealed that he may be prepared to rest skipper John Terry against Estonia.
Terry was booked against Israel and another yellow card would put him out of the clash with Russia on 17 October.
"Leaving Terry out would be a massive call," conceded McClaren.
"We must look at the bigger picture. We have a few players on bookings and we have to take that into account.
"It is a consideration," confirmed McClaren. "I have to ask myself do I want to risk losing someone?
"It means picking a team for Estonia is not an entirely straightforward issue, there are other factors involved as well.
"Clearly though, our priority is to win and avoid dropping points at home as we did against Macedonia. If we do that, what happens in Russia is irrelevant."
Are you a football fan? Answer a few footy questions and be in the running for a £50 Free Bet. Click here!