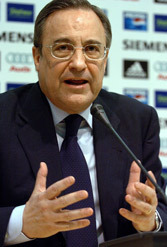 Real Madrid president Florentino Perez has admitted that the club has lost it way on the pitch but remains confident that the situation will pick up next year.
"From May last year something has happened to us," Perez told the press.
"We have lost a bit of direction on the sporting front and we are going to work hard to find it once again.
"I hope that next year we will be praised for having a team that has rediscovered its direction, is in better physical shape and better positioned on the pitch."
Perez said that he was prepared to accept criticism of the way the club had been run.
"I am grateful for the criticism because it will help us progress and improve, but I will fight against anyone who attacks the club itself."
Real have suffered a trophy drought since the sacking of coach Vicente del Bosque in 2003.
Five coaches have subsequently struggled to create a team out of group of talented individuals with the latest incumbent, Brazilian coach Vanderlei Luxemburgo, sacked and replaced by former reserve team boss Juan Ramon Lopez Caro.
Despite the events of the last two years, Perez was proud of the club's financial performance in that period.
"I'm very satisfied with the work we have done in recent years," he said.
"There is now great institutional stability at the club and thanks to the economic and sporting policies that we have adopted our independence is guaranteed.
"We are confident we will keep improving in all departments. I am as enthusiastic as I was in 2000 and hope that the trophies and spectacle will soon return."
To make matetrs worse for Real, their arch-rivals Barcelona have been in stunning form this season. Last night's victory over Celta Vigo was their 13th in a row and toook them 11 points clear of Madrid at the halfway point of the season.
Subscribe to World Soccer – The essential football magazine