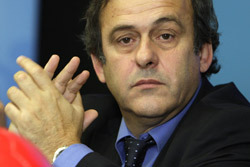 Man City travel to Chelsea in the Premiership game of the weekend – see the best odds on every market here…
UEFA president Michel Platini has spoken about the organisation's Financial Fair Play Regulations, insisting that his organisation is not afraid to impose sanctions on the biggest clubs in Europe if they are unable to operate within the new guidelines.
UEFA has drafted new financial regulation which are scheduled to come into effect in the 2012 financial year and Platini has dismissed suggestions that the bigger clubs will be immune to the new rules.
"When there is a deficit of €1.2 billion in European football, there is a danger," claimed Platini to La Razon.
"If the question is whether I will have the courage to punish the most renowned clubs, my answer is yes."
Many have doubted UEFA's willingness to sanction Europe's bigger names, many of whom are among the continent's most-indebted clubs.
The declaration comes after a busy transfer window, which saw huge amounts of money switch hands, especially in England.
Man City travel to Chelsea in the Premiership game of the weekend – see the best odds on every market here…
Take advantage of the sales by saving up to 36% on a subscription to World Soccer