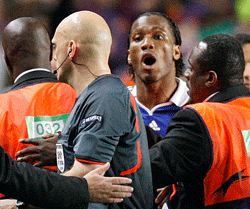 Chelsea are unbeaten in their last 5 games in Spain and travel to under-fire Atletico Madrid on Tuesday – See the full betting here (Tues 19:45)
UEFA president Michel Platini has welcomed Drogba back to European football and suggested that the Chelsea striker will be "better and stronger" following his three-match ban.
Drogba is expected to return to the line up against Atletico Madrid on Tuesday night following his three-match ban for verbally abusing Norwegian referee Tom Henning Ovrebo at the end of their semi-final defeat at the hands of Barcelona last season.
"What I saw on TV was the comportment of Didier," added Platini. "All the TV showed the insult of Drogba, not the decisions. I was like Drogba in the past when I saw an injustice as a player. But I don't know Drogba's mind. He took the decision that he felt was right for him. He was alone in thinking that.
"Drogba's a good guy. I know him very well. He understands now that he made a mistake. Everybody does. He will come back better, stronger."
Many Chelsea fans accused UEFA of a conspiracy against them, alleging that Platini wanted Barcelona to reach the final against Manchester United to prevent another all-Premier League showdown.
"Do you think I am so stupid as to ask a referee to make Chelsea not get to the final?" said Platini.
"I always respect all the players and clubs. I don't interfere. If two English teams are in the final, I have no problem. If it's two Spanish teams, no problem. It's better if not two from the same country but it's not my problem.
"If they get there, they deserve to be there. It is not because I like Barcelona's system (of fan ownership) that I exempt them to go to the final!"
Chelsea are unbeaten in their last 5 games in Spain and travel to under-fire Atletico Madrid on Tuesday – See the full betting here (Tues 19:45)
Christmas special offer – Subscribe to World Soccer magazine today and Save up to 32%