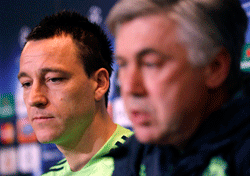 Gavin Beech is tipping Chelsea to win in Copenhagen tonight – see his full preview here…
Chelsea captain John Terry has confirmed that the players remain completely behind beleaguered manager Carlo Ancelotti and has ordered them to "man up".
The Blues face Copenhagen in Tuesday's last-16 Champions League tie with the competition appearing to be their last realistic chance of winning silverware this season.
"The players are 100% behind the manager," he said. "He's got total confidence in us, and that will remain the same. We believe in the manager and the players.
"We have to man up a little bit as a group of players and take responsibility. It's down to myself as captain, Lamps (Frank Lampard) and Didier (Drogba) – as well as the rest of the squad who have a responsibility – to look at their own form, their own characters and just make sure we stay together.
"It's been difficult because at times we have shown our quality."
Following their FA Cup exit on Saturday and a slide to fifth in the Premier League table, Chelsea will play the Danish league leaders with owner Roman Abramovich still awaiting his first European trophy since he bought the club in 2003.
However, with Chelsea two points behind fourth-placed Tottenham and four behind third-placed Manchester City in the Premier League, Terry admitted that failing to qualify for next season's Champions League would be disastrous for the club.
"That's obviously the worst thing to think about, looking at Spurs and City," he added.
"They're playing well and picking up points at a crucial time.
"It would be disastrous for the football club if we don't qualify for the Champions League. It's even hard to get my head around it now."
Nonetheless, Terry insisted that the team were capable of going all the way in the Champions League this time.
He added: "That's what we've still got at the football club – hunger and desire. We missed out on the Premier League for three years when Man United won it and it hurt.
"That's what I lose sleep over, watching other teams lift trophies, because I want to be the one lifting trophies for this football club.
"We went through a bad spell in the Premier League last year. You get the speculation, you get the people saying the squad is past its best, we're getting too old – and then we go on and win the Double.
"The manager has brought in two very good young players as well – we're talking world-class players – in Fernando Torres and David Luiz."
Gavin Beech is tipping Chelsea to win in Copenhagen tonight – see his full preview here…
Take advantage of the sales by saving up to 36% on a subscription to World Soccer