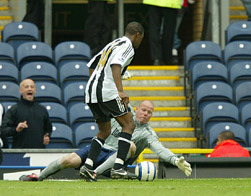 Premier League chiefs will stage a special meeting to examine the causes of declining attendances.
The attendance working group, headed by chief executive Richard Scudamore, will study whether rising ticket prices and television coverage have contributed to falling crowds.
"We have to do something now because by the time you see the bandwagon it's too late," said Blackburn chairman John Williams.
Their attendance against Newcastle on Sunday was 9,000 fewer than the same match last season.
"We in the Premier League have had 10 great years, a fantastic success story, but we are certainly going through the doldrums now," Williams added.
"Richard Scudamore is going to reconstitute the working group and it's time to sit down and go through a whole plethora of things that might be done.
"The wheels have not come off but the product does need a good service – it needs tweaking rather than major surgery."
Sports minister Richard Caborn admitted he was concerned by the fall in numbers attending Premier League matches.
Caborn said: "I'm pleased the Premier League has taken this initiative, and the working party is going to have to look at whether clubs are pricing fans out of going to matches.
"One also has to question how much football there is on television and whether it's undermining attendances. I believe there is clear evidence that is the case."
Despite the concerns, the Premier League remains optimistic about the future.
A spokesman said: "It's very early in the season to take any sort of meaningful analysis from these statistics."