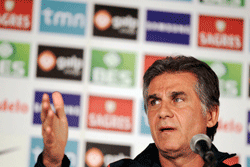 Who will be PFA Player of the Year? Gareth Bale is currently the bookies favourite at 10/3 – see the best odds on every player here…
Former Portugal coach Carlos Queiroz's six-month ban for disrupting doping tests has been overturned by the Court of Arbitration for Sport.
Portugal's anti-doping agency decreed in August that Queiroz insulted an anti-doping team sent to test the Portugal squad ahead of the World Cup, and that his aggressive behavior undermined their work.
CAS said in a statement that Queiroz did not dispute that his comments were "inappropriate and offensive."
But the CAS panel ruled that Queiroz's conduct had not "disturbed the sample collection process or the work of the anti-doping officers."
"It was indeed undisputed that the players were not in the vicinity of the incident and thus none of them were directly involved," a CAS statement said.
Portugal's football federation also gave Queiroz a one-month ban for misconduct, then fired him following a string of poor results.
Queiroz is a former coach of Real Madrid who also had two spells as Alex Ferguson's assistant at Manchester United.
Who will be PFA Player of the Year? Gareth Bale is currently the bookies favourite at 10/3 – see the best odds on every player here…
Take advantage of the sales by saving up to 36% on a subscription to World Soccer