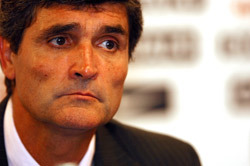 Next up in the Carling Cup for last year's finalists, Arsenal, is a trip to Sheffield United tonight. Click here for the full betting!
Juande Ramos has insisted that he didn't meet Tottenham representatives in a Spanish hotel in August to discuss the position then held by Martin Jol.
Speaking at a press conference to mark his unveiling as the new Spurs manager, Ramos was responding to claims that he had prior contact with club officials months before he was officially approached to take over at White Hart Lane.
Ramos' denial came despite photographs published in the Spanish press of the former Sevilla coach leaving the hotel Alfonso XIII with the then Spurs vice-chairman, Paul Kemsley, and the club secretary John Alexander.
Yet the Tottenham director of football Damien Comolli, who unveiled the new manager in the absence of chairman Daniel Levy, claimed yesterday that he felt "no embarrassment" at the way the appointment had been made.
Ramos also denied telling a televised press conference in Seville two months ago that he had received "a dizzying offer" from Tottenham.
"I didn't say that," he said. "I said I'd had about three or four offers from different clubs. I'd just won the Uefa Cup and, while I'd never say no, it wasn't the right moment to leave Sevilla. It was the right time now. There were some pictures in Seville but I can honestly say I didn't meet any one of the Tottenham directors."
Pressed on the issue of Spurs approach to Ramos when they had already begun the season with Martin Jol in charge, Comolli replied: "No, I'm not embarrassed. These things unfortunately . . . sometimes you have to make decisions like this in football. It was a decision we had to take. I hope we are taken seriously considering the work done by the chairman and the board as they have changed this club around in the last six years. They deserve respect for that.
"Results matter, and how you get results matters. One of the reasons Juande is here is because he gets results with style. I think that's how you get respect. I'm 100% convinced that the technical director role works – 99% of the clubs around the world use that system, win trophies, win football matches. So it works.
"Martin always knew the players we bought. I enjoyed working with him and had a good relationship with him. As for my own position, if the chairman and the board are not happy with what I'm doing, they'll probably ask me to leave. But 50% or 60% of what I do is about the future of the club and 40% is about the club now."
Comolli also denied that the Spurs board had informed Jol that he had to attain Champions League football if he was to retain his position.
"We just said we wanted to do as well as possible and do better, year on year," he said. "That's all. No one told Martin we had to achieve Champions League football."
That claim was made despite the Spurs board having released a statement on August 21 which read: "We want Champions League football. We, the board, owe it to the club and the supporters to constantly assess our position and performance and to ensure that we have the ability to operate and compete at that level."
Meanwhile, Ramos said his initial priority was to steer the club away from the relegation zone.
"This is a great club, a great team," said the Spaniard. "Our aims are to bring Tottenham to the top of the table, where they deserve to be.
"We'd had some bad results at Sevilla so it seemed the right time to come. There was some uncertainty because we were not achieving good results in the league. But my aim now is to start winning games, which will translate into raising our players' confidence. Once we've won some matches, our aims for the Premiership will change accordingly."
Next up in the Carling Cup for last year's finalists, Arsenal, is a trip to Sheffield United tonight. Click here for the full betting!