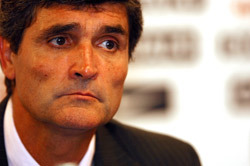 Premiership Top Scorer: Drogba 7/1, Torres 10/1, Owen 33/1, Bianchi 66/1 click here to view all others players.
Seville coach Juande Ramos has revealed he turned down an offer to replace Martin Jol at Tottenham.
Jol's future at White Hart Lane was in doubt after Spurs lost their opening two games of the season.
Spurs allegedly held talks with Ramos over the weekend and according to reports he was set to walk out on Sevilla.
However, after discussing his position with Sevilla president Joe Maria del Nido, Ramos opted to see out the remaining 12 months of his contract. His decision means a stay of execution for Jol, although his position now appears dependent upon Spurs qualifying for the Champions League.
"They made an excellent, dizzying offer, but I'm under contract and my decision is to fulfil it," revealed Ramos.
"There was not the slightest possibility that I would accept it because I'm under contract. It did not interest me or the club.
"I wasn't in a meeting with anyone, what happened was that I met with a person and that person went on to meet other people who were surely Tottenham.
"I am very calm because there is still a lot of time left until June 2008. My future will be looked at in June 2008 and I have not been unsettled by anything that has been talked about. I am totally calm.
"The same thing always happens with successful teams. In this team they talk about Daniel (Alves), about (Frederic) Kanoute, about me… This happens when a team is doing well and you need to accept it."
Ramos has has made no secret of his desire to coach in England and his current stock is high after he guided Sevilla to back-to-back Uefa Cups.
His side finished third in La Liga last season and look set to qualify for the group stages of this season's Champions League after a 2-0 win over AEK Athens in the first leg of their third round qualifier.
Meanwhile, Spurs chairman Daniel Levy has made it clear what he expects from Jol, stating: "We want Champions League football.
"We, the board, owe it to the club and the supporters to constantly assess our position and performance and to ensure that we have the ability to operate and compete at that level.
"We have made a massive investment in the squad and as a result we have the best squad of players this club has had for over 20 years and they are equally hungry for success and silverware."
Premiership Top Scorer: Drogba 7/1, Torres 10/1, Owen 33/1, Bianchi 66/1 click here to view all others players.