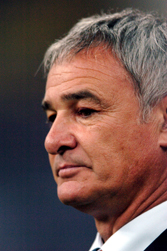 Claudio Ranieri looks set to become the next manager of Manchester City after declaring that he can recreate his "Chelsea miracle" if he is given the job.
Ranieri has been offered a contract extension by Italian side Parma, after guiding them to safety in Serie A, but judging by his remarks he looks set to leave the club and embark upon a fresh challenge in England.
Ranieri is tipped to become City's manager if, as expected, a prospective takeover of the club by Thaksin Shinawatra goes ahead.
"The Manchester City challenge reminds me of the experience I had at Chelsea where, without spending £1, we built a good team," said Ranieri.
"It was an achievement that convinced (Roman) Abramovich to buy the club. I created the Chelsea miracle from nothing. Then, mountains of money came as well as a selection of top players."
Ranieri guided Chelsea into the Champions League semi-finals and also a runners-up finish in the Premiership before Abramovich appointed Jose Mourinho at Stamford Bridge in the summer of 2004.
"Why England again? Because at this time, English football is a fascinating window that hypnotises you," he said.
"Some of the richest men in the world would do ridiculous things in order to buy an English club because the Premier League has become a luxury stage.
"Here [in England], there are so many champions, seven or eight teams at the top level just as Italy had some time ago. Unfortunately for us, Italian football, we are poorer, despite Milan's extraordinary victory in the Champions League. To return to England means to be at the centre of something important.
"The idea is to face Manchester United as soon as possible and be at the same level as them in the standings," he said. "With Manchester City, I hope to complete every stage. This time I have been chosen whereas, before, Abramovich found me at the club."